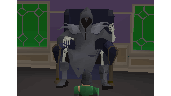 The spooky, scary holiday is approaching and we thought it would be a good time to resurrect the 2007 Halloween event. If you were playing back in 2007, you may remember the event as the Mansion of Death.
Make sure to go and check out the developer blog that has just gone live over on our forums and let us know how you feel about the return of the Grim Reaper.
Mods Ash, John C, Mat K, Reach, Ronan & Weath
The Old School Team
Ad blocker interference detected!
Wikia is a free-to-use site that makes money from advertising. We have a modified experience for viewers using ad blockers

Wikia is not accessible if you've made further modifications. Remove the custom ad blocker rule(s) and the page will load as expected.