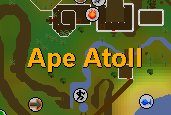 The developer blog for Monkey Madness II: The Renegade Returns is now live. Click here and be sure to give it a read!
As always, we are very eager to hear what you have to say about our proposal for Monkey Madness II. If you have any feedback, please be sure to let us know! If you have any thoughts at all, we want to hear them!
Mods Alfred, Archie, Ash, Ghost, Ian, Jed, John C, Kieren, Mat K, Maz, Ronan, WeathThe Old School Team
Ad blocker interference detected!
Wikia is a free-to-use site that makes money from advertising. We have a modified experience for viewers using ad blockers

Wikia is not accessible if you've made further modifications. Remove the custom ad blocker rule(s) and the page will load as expected.