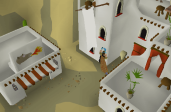 Over the last couple of weeks, we've been working on the Rooftop Agility Courses, nine new training courses that will be set on the rooftops of RuneScape's towns and cities. With the mapping now almost complete, we'd like to take a moment to show you how it looks, and how it works under the hood.
Read the developer blog
here
.
Ad blocker interference detected!
Wikia is a free-to-use site that makes money from advertising. We have a modified experience for viewers using ad blockers

Wikia is not accessible if you've made further modifications. Remove the custom ad blocker rule(s) and the page will load as expected.