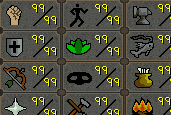 We plan on improving skill capes to make them more desirable and we need your help! Come and see what we have planned so far and let us know what you think.
Head over to the forums and have a read of the developer blog to see what we currently have in mind. Your feedback is very important so be sure to let us know what you think.
Mods Alfred, Archie, Ash, Ghost, Ian, John C, Kieren, Mat K, Maz, Ronan, Weath
The Old School Team
Ad blocker interference detected!
Wikia is a free-to-use site that makes money from advertising. We have a modified experience for viewers using ad blockers

Wikia is not accessible if you've made further modifications. Remove the custom ad blocker rule(s) and the page will load as expected.