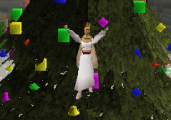 'Twas the night before Christmas, when all through Gielinor not a creature was stirring, not even a Chinchompa. When out in Varrock there arose such a clatter, we sprang from our beds to see what was the matter – it was the RuneScape and Old School Teams, fighting and shouting, each declaring their game more astounding!
Check out our light hearted parody, Fairytale of Gielinor, on YouTube now to see both teams battle it out!
Merry Christmas to the Old School Community!
The Old School RuneScape and RS3 teams.
Ad blocker interference detected!
Wikia is a free-to-use site that makes money from advertising. We have a modified experience for viewers using ad blockers

Wikia is not accessible if you've made further modifications. Remove the custom ad blocker rule(s) and the page will load as expected.