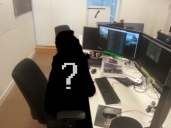 Back in November we advertised for a new QA tester. It was our intention to recruit someone from the community as we felt that was important to you.
Two months and 250 applicants later, we are pleased to introduce our new QA tester, Mod John C.
Head over to his
introduction thread
to have a chat with him.
Ad blocker interference detected!
Wikia is a free-to-use site that makes money from advertising. We have a modified experience for viewers using ad blockers

Wikia is not accessible if you've made further modifications. Remove the custom ad blocker rule(s) and the page will load as expected.