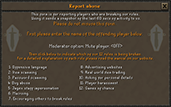 A game update is going out to improve the functionality of the Report Abuse menu. There will be no visible difference on the interface itself but the way in which the reports you send in will be handled more effectively.
Mods Archie, Ash, Ghost, Ian, John C, Mat K, Reach, Ronan, Weath
The Old school Team
Ad blocker interference detected!
Wikia is a free-to-use site that makes money from advertising. We have a modified experience for viewers using ad blockers

Wikia is not accessible if you've made further modifications. Remove the custom ad blocker rule(s) and the page will load as expected.