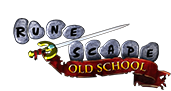 System Update
Raw Cod is no longer a F2P item.
Fixed a typo in the description of Morytania legs 2, 3 & 4.
Changed the sand delivery Ardougne medium task for Ultimate Ironmen.
The New crystal halberd full (i) now functions as a halberd.
God page sets are now noted when packed.
We are aiming to release the Easter 2015 holiday event and membership bonds early next week.
Discuss this on our forums.
Mods Archie, Ash, Ghost, Ian, John C, Mat K, Reach, Ronan, Weath
The Old School Team
Ad blocker interference detected!
Wikia is a free-to-use site that makes money from advertising. We have a modified experience for viewers using ad blockers

Wikia is not accessible if you've made further modifications. Remove the custom ad blocker rule(s) and the page will load as expected.