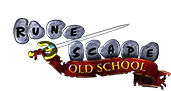 We have made some temporary changes to how death works.If you die outside of PvP any non-tradeable items will appear in your inventory. We have also significantly increased the amount of time your items are available on the floor for you.
Mods Archie, Ash, Ghost, Ian, John C, Mat K, Ronan, Weath.The Old School Team
Ad blocker interference detected!
Wikia is a free-to-use site that makes money from advertising. We have a modified experience for viewers using ad blockers

Wikia is not accessible if you've made further modifications. Remove the custom ad blocker rule(s) and the page will load as expected.