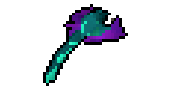 After receiving feedback from the Old School community we have made a change to the toxic blowpipe.
In player-vs-player combat the blowpipe is now 1 tick slower. This makes it the same speed as a shortbow, which is what a large number of players felt they were voting for initially.
This change only impacts the blowpipe when it is used in player-vs-player combat. The attack speed remains the same when attacking monsters.
Mods Archie, Ash, Ghost, Ian, John C, Mat K, Reach, Ronan and Weath
The Old School team
Ad blocker interference detected!
Wikia is a free-to-use site that makes money from advertising. We have a modified experience for viewers using ad blockers

Wikia is not accessible if you've made further modifications. Remove the custom ad blocker rule(s) and the page will load as expected.