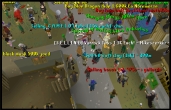 With the trading solution due to be polled in the coming weeks, we need to think about what features are important to you.
We have made a short survey which you can visit here to find out what the community thinks.
Make sure you fill it in and let your friends know too. This update will affect every player and as much input as possible would be great.
Mods Alfred, Ash, John C, Mat K, Reach & Weath
The Old School Runescape Team
Ad blocker interference detected!
Wikia is a free-to-use site that makes money from advertising. We have a modified experience for viewers using ad blockers

Wikia is not accessible if you've made further modifications. Remove the custom ad blocker rule(s) and the page will load as expected.