Zulrah's Snakelings
To follow up last week's big release, Zulrah, we are giving a visual upgrade to the snakelings and snakeling pets that came along with the update.
If you are lucky enough to get your hands on a snakeling you will now get 3 different skins for your pet! You can switch between the different skins by right clicking your snakeling and selecting 'Metamorphosis'.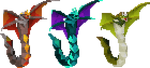 As with any pet, snakelings are incredibly rare. Keep an eye out for them and make sure to get a good look when you see one, it won't be every day that one slithers by!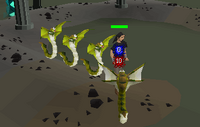 In addition to the snakeling pet getting a lovely visual upgrade, the snakelings that attack you during a fight with Zulrah have also received an update and will now look much more Zulrah-like.
In other news...
Zulrah now remains visible when he's a long distance from his attacker.
The cannon no longer works on the Mage Arena mages and Kolodion.
The weeding, watering and composting patches on Miscellania and Etceteria should no longer get their states stuck.
The different states of bullseye lanterns have had their names changed to avoid confusion in trading.
Standard Iron Men can now use the Item Sets feature of the Trading Post. Ultimate Iron Men cannot.
Some more shops have been split so that Iron Men access different stock to normal players.
The Hitpoints skill guide now mentions venom.
Advisor Ghrim's name is no longer displayed incorrectly during the final conversation of Throne of Miscellania.
Discuss this update on our forums.
In next week's update we will be bringing you some of the quality of life content from the poll that is currently running. If you are yet to vote, make sure you have your say while you can. Head to your nearest poll booth!
Please note, if the Grand Exchange passes this poll it will be several weeks before it is released.
Keep up-to-date with updates and what is going on with the Old School team by following us on Twitter: @JagexArchie, @JagexAsh, @Jagex_Ghost, @Jagex_Ian, @JagexJohnC, @JagexMatK, @JagexReach, @JagexRonan and @JagexWeath
Mods Archie, Ash, Ghost, Ian, John C, Mat K, Reach, Ronan, Weath
The Old School Team
Ad blocker interference detected!
Wikia is a free-to-use site that makes money from advertising. We have a modified experience for viewers using ad blockers

Wikia is not accessible if you've made further modifications. Remove the custom ad blocker rule(s) and the page will load as expected.