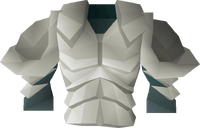 Varrock armour 3 is a reward from completing the hard Varrock Diary. The armour is received from Toby in Varrock and can be retrieved from him for free if lost. Its stats are identical to those of a Mithril platebody.
Bonuses
Hover over image for type

A player wearing the hard diary set
 Attack bonus
+0
+0
+0
-30
-10
 Defence bonus
+46
+44
+38
-6
+44
Other bonuses
Slot

list

+0
0
0%
+0
From Varrock armour 1 and 2
Edit
30 battlestaves from Zaff every day for 7,000 coins each.
Ability to switch the Varrock Teleport destination to the Grand Exchange by right clicking the spell icon in the Spellbook interface.
Skull Sceptre will now hold up to 9 charges.
10% chance of mining 2 ores at once up to mithril, except in Motherlode Mine (also works for clay with or without Bracelet of clay).[1]
10% chance of smelting 2 bars at once up to mithril when using the Edgeville furnace.[1]
Varrock armour 3 only
Edit
60 battlestaves from Zaff every day for 7,000 coins each.
Access to the Cooking guild bank.
Ad blocker interference detected!
Wikia is a free-to-use site that makes money from advertising. We have a modified experience for viewers using ad blockers

Wikia is not accessible if you've made further modifications. Remove the custom ad blocker rule(s) and the page will load as expected.