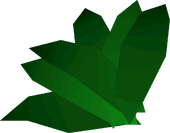 Volencia moss is a herb used in the Jungle Potion quest. It is the fourth herb that the player brings Trufitus. Players can obtain volencia moss by searching rocks at the Karamjan central jungle mine, located north of Shilo Village. You have to have progressed far enough in Jungle Potion in order to obtain Volencia Moss.
It is also one of the items that Malignius Mortifer may ask the player to give to the Nature Spirit during the quest Fairytale I - Growing Pains.
Normal herbs

 Guam leaf (Grimy) •  Marrentill (Grimy) •  Tarromin (Grimy) •  Harralander (Grimy) •  Ranarr weed (Grimy) •  Toadflax (Grimy) •  Irit leaf (Grimy) •  Avantoe (Grimy) •  Kwuarm (Grimy) •  Snapdragon (Grimy) •  Cadantine (Grimy) •  Lantadyme (Grimy) •  Dwarf weed (Grimy) •  Torstol (Grimy)

Special herbs

 Ardrigal (Grimy) •  Bruma herb •  Doogle leaves •  Goutweed •  Rogue's purse (Grimy) •  Sito foil (Grimy) •  Snake weed (Grimy) •  Volencia moss (Grimy)

Chambers of Xeric
Ad blocker interference detected!
Wikia is a free-to-use site that makes money from advertising. We have a modified experience for viewers using ad blockers

Wikia is not accessible if you've made further modifications. Remove the custom ad blocker rule(s) and the page will load as expected.