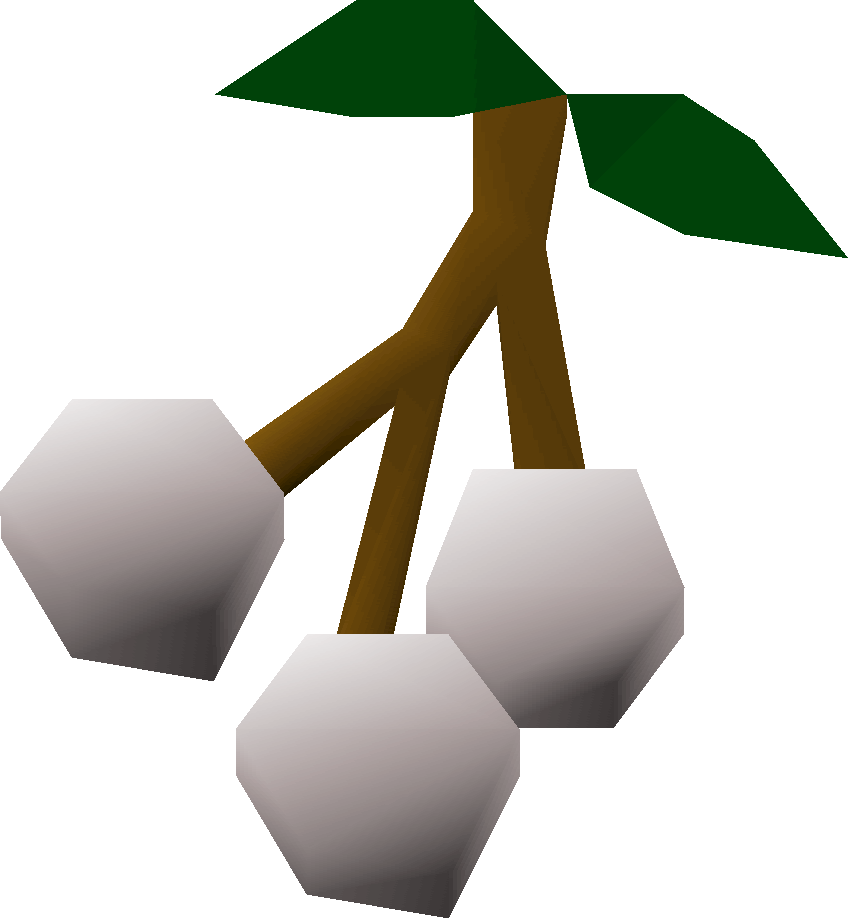 White berries are used in Herblore to make super defence potions, and regular defence potions. They are also used in The Hand in the Sand quest, as well as Mourning's Ends Part II, where it's part of a list containing 50 different items in order to get a Death talisman.
Filling a compost bin with 15 white berries will yield 15 buckets of supercompost. However, this is not recommended as watermelons are far cheaper and have the same effect.
While planting the seed requires level 59 Farming, picking the berries does not. Once all berries are picked from the bush, it will produce more berries, approximately 1 per 25 minutes, until there are 4 again.
Berry Patch Locations
Edit
You can grow White berries in the following locations:
Obtaining
Edit
Dropping monsters
Edit
Allotment produce

 Potato •  Onion •  Cabbage •  Tomato •  Sweetcorn •  Strawberry
 Watermelon

Flower produce

 Marigolds •  Rosemary •  Nasturtiums •  Woad leaf •  Limpwurt root

Hops

 Barley •  Hammerstone hops •  Asgarnian hops •  Jute fibre •  Yanillian hops •  Krandorian hops •  Wildblood hops

Bush produce

 Redberries •  Cadava berries •  Dwellberries •  Jangerberries •  White berries •  Poison ivy berries

Tree produce
Fruit tree produce

 Cooking apple •  Banana •  Orange •  Curry leaf •  Pineapple •  Papaya fruit •  Coconut

Special produce

 Giant seaweed •  Grapes •  Zamorak's grapes •  Mushroom •  Cactus spine •  Cave nightshade •  Calquat fruit •  White tree fruit
Ad blocker interference detected!
Wikia is a free-to-use site that makes money from advertising. We have a modified experience for viewers using ad blockers

Wikia is not accessible if you've made further modifications. Remove the custom ad blocker rule(s) and the page will load as expected.