The wilderness sword 3 is a reward from completing the hard Wilderness Diary tasks given to you by the Lesser Fanatic in Edgeville, and can be retrieved from him for free if lost.
Its stats are identical to the mithril sword.
Bonuses
Hover over image for type

A player wearing the hard diary set
 Attack bonus
+16
+11
-2
+0
+0
 Defence bonus
+0
+2
+1
+0
+0
Other bonuses
Slot

list

+17
+0
+0%
+0
From Wilderness sword 1 and 2
Edit
Wilderness sword 3 only
Edit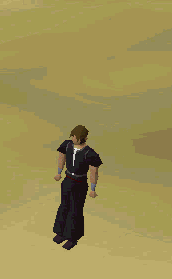 The sword's design is based on the macuahuitl, a wooden sword with obsidian blades that was used by different civilizations in Mesoamerica, such as the Aztecs.
Ad blocker interference detected!
Wikia is a free-to-use site that makes money from advertising. We have a modified experience for viewers using ad blockers

Wikia is not accessible if you've made further modifications. Remove the custom ad blocker rule(s) and the page will load as expected.