Woad seed
Release date
11 July 2005 (Update)
Farming level
25
Exchange price

1

coins (info)
Patch
Flower
Time
20 min (4x5 min)
Planting XP
20.5
Check-health XP
N/A
Harvesting XP
115.5
Payment
N/A
Quest item?
No
Tradeable?
Yes
High alch
6 coins
Low alch
4 coins
Store price
Not sold
Examine
A woad seed - plant in flower patch.
[view] • [talk]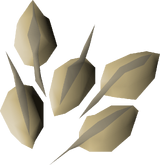 Woad seeds are used in the Farming skill. They are planted in a flower patch and need a farming level of 25 to be planted. When fully grown, the flower can be harvested for three woad leaves.
Seeds

 Marigold •  Rosemary •  Nasturtium •  Woad •  Limpwurt •  Mithril

Garden of Tranquillity

 Delphinium •  Pink orchid •  Pink rose •  Red rose •  Snowdrop •  White rose •  Yellow orchid

Farmed flowers

 Marigolds •  Rosemary •  Nasturtiums •  Woad leaf •  Limpwurt root

POH

 Thistle •  Sunflower •  Marigolds •  Roses •  Rosemary •  Daffodils •  Bluebells

Coloured

 Assorted •  Black •  Blue •  Mixed •  Orange •  Purple •  Red •  White •  Yellow

Other

 Blue •  Cicely •  Exotic •  Medivaemia blossom •  Red •  Star flower •  Trollweiss •  Troll thistle
Allotment

 Potato •  Onion •  Cabbage •  Tomato •  Sweetcorn •  Strawberry •  Watermelon

Flower

 Marigold •  Rosemary •  Nasturtium •  Woad •  Limpwurt

Herb

 Guam  Marrentill •  Tarromin •  Harralander •  Gout tuber •  Ranarr •  Toadflax •  Irit •  Avantoe •  Kwuarm •  Snapdragon •  Cadantine •  Lantadyme •  Dwarf weed •  Torstol

Hop

 Barley •  Hammerstone •  Asgarnian •  Jute •  Yanillian •  Krandorian •  Wildblood

Bush

 Redberry •  Cadavaberry •  Dwellberry •  Jangerberry •  Whiteberry •  Poison ivy

Tree
Fruit tree

 Apple tree •  Banana tree •  Orange tree •  Curry tree •  Pineapple •  Papaya tree •  Palm tree

Special seeds

 Seaweed •  Teak •  Grape •  Mushroom •  Mahogany •  Cactus •  Belladonna •  Calquat •  Spirit

Other seeds

 Blindweed •  Crystal (small) •  Grass •  Hardy gout tuber •  Hardy gout tubers •  Kelda •  Pine tree •  White pearl

| | |
| --- | --- |
| Tithe Farm seeds | |
| Chambers of Xeric | |
| Garden of Tranquillity |  Delphinium •  Pink orchid •  Pink rose •  Red rose •  Snowdrop •  Vine •  White rose •  Yellow orchid |