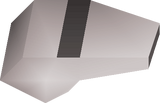 The wolf whistle is a quest item given to the player by Rufus during the The Great Brain Robbery quest.
It is used to call Rufus to Fenkenstrain's Castle to collect a box of wooden cats (which also contains Dr. Fenkenstrain for delivery to Mos Le'Harmless).
Trying to blow the whistle while wearing a fishbowl helmet reveals the message, "You should take your diving helmet off before you try to blow the whistle."
Characters

Brother Tranquility • Mi-Gor • Dr Fenkenstrain • Rufus • Monk • Zombie monk • Zombie pirate • Sorebones • Barrelchest

Items

 Prayer book •  Crate part •  Wolf whistle •  Wooden cat •  Shipping order •  Bell jar •  Brain tongs •  Cranial clamp •  Skull staple •  Fuse •  Keg

Rewards

Locations

Music

Related
Ad blocker interference detected!
Wikia is a free-to-use site that makes money from advertising. We have a modified experience for viewers using ad blockers

Wikia is not accessible if you've made further modifications. Remove the custom ad blocker rule(s) and the page will load as expected.