Xeric's Shrine is a temple housed north-east of Mount Quidamortem, north of the Lizardman Settlement. Players can recharge their prayer points at the altar in this location. The Swamp Priest lives right outside the shrine.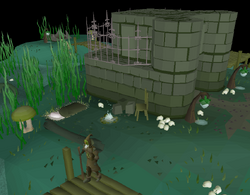 It is recommended to bring antipoison potions while moving through this area since the lizardmen can poison you. South of the altar are a couple of lizardman shamans, which can be easily safespotted using Ranged on the bridge.
Ad blocker interference detected!
Wikia is a free-to-use site that makes money from advertising. We have a modified experience for viewers using ad blockers

Wikia is not accessible if you've made further modifications. Remove the custom ad blocker rule(s) and the page will load as expected.