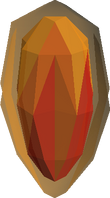 The zenyte shard is a rare drop received from tortured and demonic gorillas in the Crash Site Cavern, which can be accessed after completion of Monkey Madness II.
In order to create an uncut zenyte, the shard must be fused with a cut onyx in the wall of flames of the Temple of Marimbo Dungeon while holding a zombie monkey greegree.
Dropping monsters
Edit
Ad blocker interference detected!
Wikia is a free-to-use site that makes money from advertising. We have a modified experience for viewers using ad blockers

Wikia is not accessible if you've made further modifications. Remove the custom ad blocker rule(s) and the page will load as expected.