Zulrah's scales
Release date
8 January 2015 (Update)
Members only?
Yes
Quest item?
No
Tradeable?
Yes
Equipable?
No
Stackable?
Yes
High Alch
12 coins
Low Alch
8 coins
Destroy
Drop
Store price
Not sold
Exchange price

257

coins (info)
Buy limit
30,000
Weight
0 kg
Examine
Flakes of toxic snakeskin.
[view]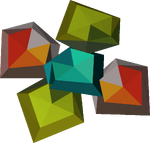 Zulrah's scales are items used to charge serpentine helmets, toxic blowpipes, toxic staves of the dead, and tridents of the swamp. It can also be used to create anti-venom at 87 Herblore by using them on an Antidote++, with 5 scales used per dose.
They are primarily obtained as a drop from Zulrah. They can also be obtained by dissecting sacred eels with a knife, which requires level 72 in Cooking. A player's Cooking level affects how many scales are received when they are dissected.
In addition, players can receive 20,000 scales from dismantling the following items:
Dropping monsters
Monsters

Signature drops

 Zulrah's scales •  Jar of swamp •  Pet snakeling •  Zul-andra teleport •  Serpentine visage

Equipment

 Toxic blowpipe •  Toxic staff of the dead •  Trident of the swamp (e)

| | |
| --- | --- |
| Helms |  Serpentine •  Magma •  Tanzanite |

Other

High Priestess Zul-Harcinqa • Priestess Zul-Gwenwynig •  Anti-venom •  Anti-venom+